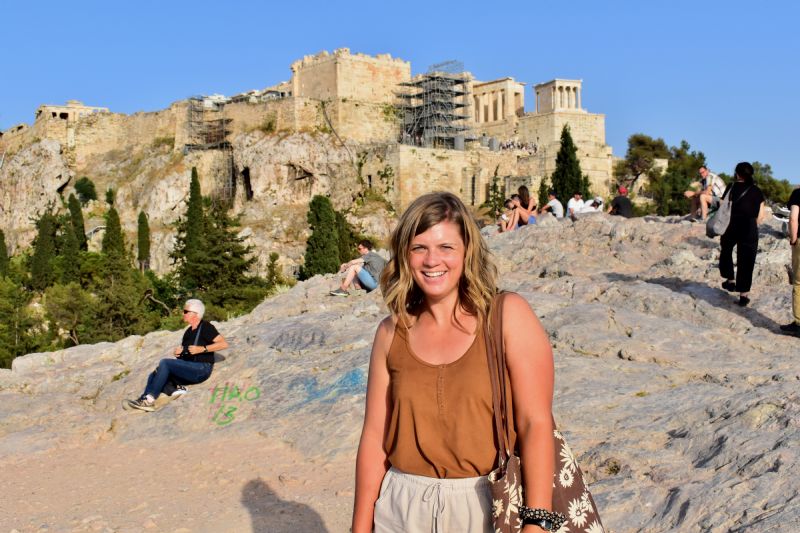 UPDATE – IT'S OUR LAST MONTH
I can't believe we have reached our last month on the World Race. A lot of the past year feels like I lived through a really long dream…
(Standing on Mars Hill after reading Acts 17, a few days ago here
in Athens, Greece.Yes, that is the Acropolis behind me!!!)
Here are some updates you might be interested in as I look forward to finishing this journey strong and head for home after my time here in Greece. YES, you read that right! We are in Greece for our final month. This is incredible for so many reasons not only because of the rich history, beautiful views and tourist attractions but because I teach about Greece as part of my ancient history curriculum in my classroom. I am undone by how God has aligned some of our destinations this year with the details of my curriculum. Originally, none of these historic destinations were included on our itinerary.
Additionally, for ministry here we do not have a host ministry or a partner organization as we have had in other months. Although this is not normal for our Race experience, it is normal for most World Race routes. We use the freedom of not having a ministry host to partner with the Lord in whatever direction He nudges in. We call this Ask the Lord. We intentionally pray about our ideas, hopes and calling for the month and trust that we will feel led in a certain direction for the month. My team and I are currently in Athens, Greece. We travelled here as an entire squad before setting out into the nation as separate teams.
During this final month, I am hoping to truly press into the daily freedom of living out ministry as life and life as ministry. In this, I will be stepping back from posting quite as frequently. I want to keep my focus on the main thing! Jesus. I don't want you or other followers to get caught up that I am in a tourist destination. I want you to know we are partnering with God to minister to His people in this place. There is a heavy sense of Spiritual oppression in the air here. I have felt the extent of this through the feeling of overwhelm, exhaustion and horrendous dreams. I want you to know that we have already been able to minister to an Afghani Refugee and a young female traveller being followed throughout the city. God is at work no matter where we look or where our feet are touching the ground. So I urge you too, to keep looking for Him at work in your midst and in your community.
I'll also spend my 26th Birthday HERE!!! What the heck?! A Birthday in GREECE, what a dream come true! && One of my World Race sisters, Anna-Stewart, shares my Birth date, a Birthday Buddy! How sweet is that?! At the end of our time in Greece we will enter a period of time for celebration and re-entry into the United States. We will spend a week in Georgia back at the Adventures in Missions Base before heading HOME in early July.
I plan to keep up with the blog as I have much to say and much to reflect on, including more from last month in Romania! It was incredibly bittersweet to leave the families we came to know and love from Ukraine as well as our host family the Costea's!
The road has been long but the miles have passed by so quickly this year. To get the full picture in review, check out my world map! Here you can visit the webpages of our previous hosts as well as view many of the photos I took along the journey!
https://maphub.net/snkandiko/worldrace-map
I hope you've had a pleasure watching this journey unfold.
Oh, yea! Did I mention I'M WRITING A BOOK about my Kingdom Journey?!
This year has been so good and there are so many reasons why, so much that I learned and so much that will help push me forward into whatever lies ahead. Be sure to stay tuned for that!
Ta-ta for now,
Lots of Love to you all!
Savanna
P.S. I still plan to be contactable through direct and personal messages, specifically on email, WhatsApp, the blog and Facebook Messenger, so if you'd like to reach out to me please feel free!
(This is my final team, Happy Feet!)
Janine, Cassady, Jackie, Me, Stephanie